8bit Power
By Carey Zamarriego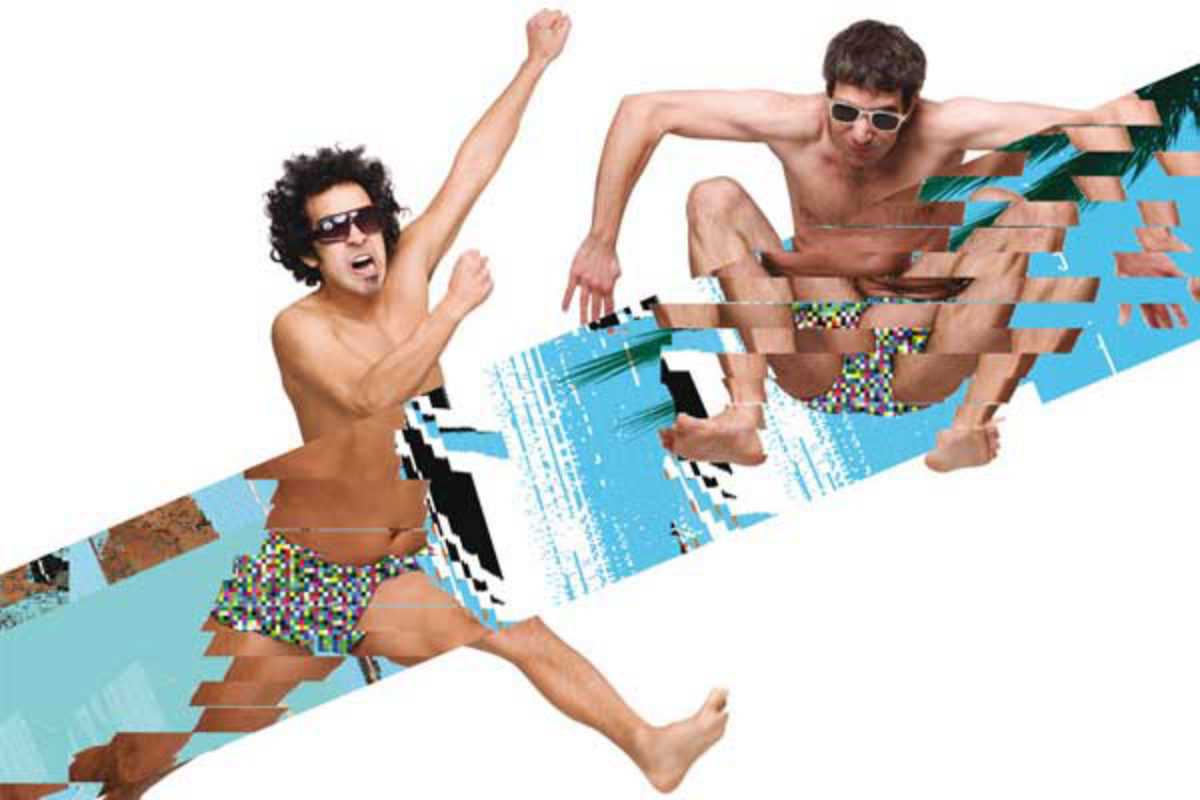 Published on September 1, 2009
The quickly crescendoing ba dink dink ba dink dink di di warning made me look behind to see if a life-sized Mario would come scurrying by. Instead, two guys – in their mid thirties – wearing nothing but tighty whities, oversized goggles and clutching Game Boys, had pixel art graphics flying across their bare chests and hundreds of people pogo-ing around calling out for more.
Unbeknownst to many walking above that Nit dels Museos (Free Museum Night) in Barcelona, a music and visual art party was raging in the Caja Madrid basement. The music of choice: 8-bit. A unique kind of electronic music inspired by and performed with computers and video game consoles from the 8-bit processing era – when Game Boy and Commodore 64 ruled – it's accompanied by visual art mimicking the lowtech pixel images of the past. Around for several years, with a concentration of groups in Spain – mainly in Barcelona – Europe celebrated its first full-scale 8-bit festival in July, 2009.
"I'm not very good at the promotion thing, I guess I have always stayed more underground," jokes a laid-back Raquel Meyers. Among the most accomplished Spanish 8-bit visual jockeys, and one of few females in the genre, this was her first interview.
Born in Cartagena, Spain, Meyers now resides in Berlin—one of the current 'it' places, right up there with Capetown. She had just come back from VJing at the Shift Headphone Concert in Basel. "Everyone was wearing headphones and moving around to their own beat," she comments in awe. Then excitedly blurts out, "It was really cool; you could see the visuals had a strong presence." With the music in their ears, the crowd didn't focus on the group playing on stage, but instead lost themselves in the hypnotizing visuals flashing before them.
Raquel was at the festival providing images for Stuchka Vkarmanye, Stu Digital and 16-year-old Swiss chiptune DJ Foxxy Dekay. Chiptunes or micromusic, the larger umbrella under which 8- bit and other low-tech works exist, as Raquel happily shares, "is for everyone, for me it reminds me of my childhood. Other generations are interested in it now because it is a strange and fun multimedia experience." Raquel mixed Japanese Kanji characters, computer coding, blocks of bright colored stripes and pixel characters in modern city scenes in the pulsating visuals.
Although her art has an 8-bit look, Raquel uses new technologies to make the images. She favors Flash, "because it provides clear, powerful images," but also uses Photoshop, self-made software, animation programs, videos and photos to make her creations. While they do provide impressive results, she's gotten dirty looks from other performers at festivals for using a laptop instead of 8-bit devices.
There are two opposing camps when it comes to chiptune and more specifically, 8-bit music. Purists, who use the actual hardware from the past, albeit with some tweaks via a practice known as circuit-bending—re-wiring Game Boys and Commodore 64s to create new musical and visual instruments. And then there are the non-purists, who use modern programs and equipment, laptops and software like Flash to play with and reproduce the sounds and styles of the 8-bit time.
"In the end, people don't care where it comes from, as long as it is really good content." Many of the top 8-bit bands including Glomag, Goto80, Meneo and Yes, Robot would have to agree with Raquel, as they have requested her visuals for gigs and music videos. "I'm more concerned with the result, than how I got there," the VJ insists. Honestly, aside from high school math teachers, no one else seems preoccupied with the way results are achieved, as long as there ARE results.
In 2006, there was a surge of groups exploring ways to create art and music based on the 8-bit aesthetic, which gave birth to microBCN. A collective dedicated to promoting 8-bit events, artists like Ralp, subAtak, Press2begin, Drop1410, Gamebombing and VJs AsciiBit and MiPrimerDrop, early inklings of its formation were witnessed at Miscelänea, what Rabato – one of microBCN's cofounders and a musician who opts for a circuit-bent Game Boy – has referred to as the group's "headquarters".
The cultural space/art gallery and shop hosted the first performance of Meneo, the Spanish group world-famous for flipping the 8-bit scene onto its back: breaking out of the mold and making 8-bit music infused with cumbias and other Latin rhythms.
"Their music is incredibly powerful," remarks Fabrizio of the Italian chiptune group Cobol Pongide on both Meneo and Rabato's work. At the same time his 8-bit idols helped microBCN form, Fabrizio was having his own chiptune/micromusic awakening. "I always collected children's keyboards and old computers from flea markets and trash cans around the city. In 2006, I stumbled upon an article about micromusic and suddenly I realized: "Gosh I'm a micromusician!" Unlike Meneo, Fabrizio works with a Commodore 64 and not a Game Boy.
However, there is room for all styles and personalities in this macro micromusic world. Meneo's Raúl (VJ Entter) and Roberto Perez (Rigo Pex) are best described as the class clowns of the 8-bit bunch. Like when they used the alias "8bit Power" for the gig at Caja Madrid on Nit dels Museos. VJ Entter, from Santander provides the graphics, while Rigo Pex, originally from Guatemala, makes Meneo's – which literally means booty sway in Spanish – music. Their self-labeled 'electropical' music – Latinoized 8-bit sound – comes from Rigo's Game Boy minimachine.
"We met when Rigo was invited to give a talk about reggaeton at a music history class for Masters in Musicology students at Yale University in New Haven, Connecticut," explains Meneo's VJ Entter. Whether the Ivy League college really had a reggaeton presentation requires further research. One thing is certain; it is quite an entertaining response.
To keep us guessing, Rigo offers a slightly different version of their first meeting. "We 'clicked' while getting buttocks augmentation surgery at a mutual friend's house." Again, a colorful explanation and something expected from a pair of entertainers who constantly work to shock and surprise the audience— they did warn after answering that journalists should never trust a word they say.
The two are so mischievous that they've even been fired during shows. "Our clothes are really cheesy and we look better naked," is one of the reasons VJ Entter gives for the group's repeated disrobing during events—a cause for several concert cancellations.
Many times, the security guards don't share Meneo's lighthearted view on nudity. "We were doing a concert in London, when one of the security guards got a hold of VJ Entter. But, we didn't cut the music off, so I ran around the stage, like 'Catch me if you can', taunting the guy", recounts Rigo.
While 'the Law' might think VJ Entter and Rigo are just plain crazy, there is some method to their madness. "Our performances are kinda like jazz, there is a base, but then we improvise over structures previously created." VJ Entter's visuals emerge from a retro pixel art and video game foundation. His creations have included pixilated versions of the Meneo frontmen, colorful exotic fruits and even flying buttocks with wings.
Meneo's playful visuals are in stark contrast to the pixel artwork done by Julian Ducourthial (Otro). He's been getting a lot of oohs and aahs recently for his authentic, chunky, and geometric and predominately primary colored images inspired by comics and old icons. While their tastes are very different, VJ Entter – who knows Julian personally – and Rigo are big fans. "I love the work he did for the 2007 Blip Festival," adds Rigo. Blip was the first world 8-bit festival held in NYC in 2006. In 2009, the European version was launched.
Raquel Meyers was the only VJ from Spain, and one of few females at Blip Europe this past July. "As a woman, things are harder and you have to prove yourself a lot more," she comments slightly frustrated. Although she does recognize that eventually, the work – and not the sex of the person behind it – will be the only thing people talk about and appreciate.
In addition to fighting the 'female' thing, unlike many of her fellow 8- bit performers, whose artistic expression came from a lifetime of playing with Game Boy and Commodore 64, Raquel didn't have a computer or play video games early on. She was drawn into the scene by the images. "The pixels looked cool, they were fun, and I wanted to try and createsomething with them." This happened in 2003, while with Meneo's VJ Entter – her romantic and business partner – at Entter, a platform for new media and design.
She and VJ Entter ended up going their separate ways in 2007 and Raquel is now focusing on largescale exhibitions and exploring other creative outlets from Berlin. Recently she teamed up with Goto80 to create Polybius. "It's powerful and based on the urban legend that says people can go crazy while playing the 80's arcade game." When we talked, Raquel was excited and gearing up for the opening at the Cimatics festival in Brussels.
Only 20 minutes long, the work is so mighty it carries an epileptic warning and aims to induce feelings of apophenia, amnesia and panic. With VJs delving into the darker side of the 8-bit era, young people exploring low-tech with multimedia, pixel artists re-creating icons from times past and DJs continuing to mix 8-bit sounds with unusual rhythms to the delight of growing crowds, what's next, an 8-bit hip-hop operetta?