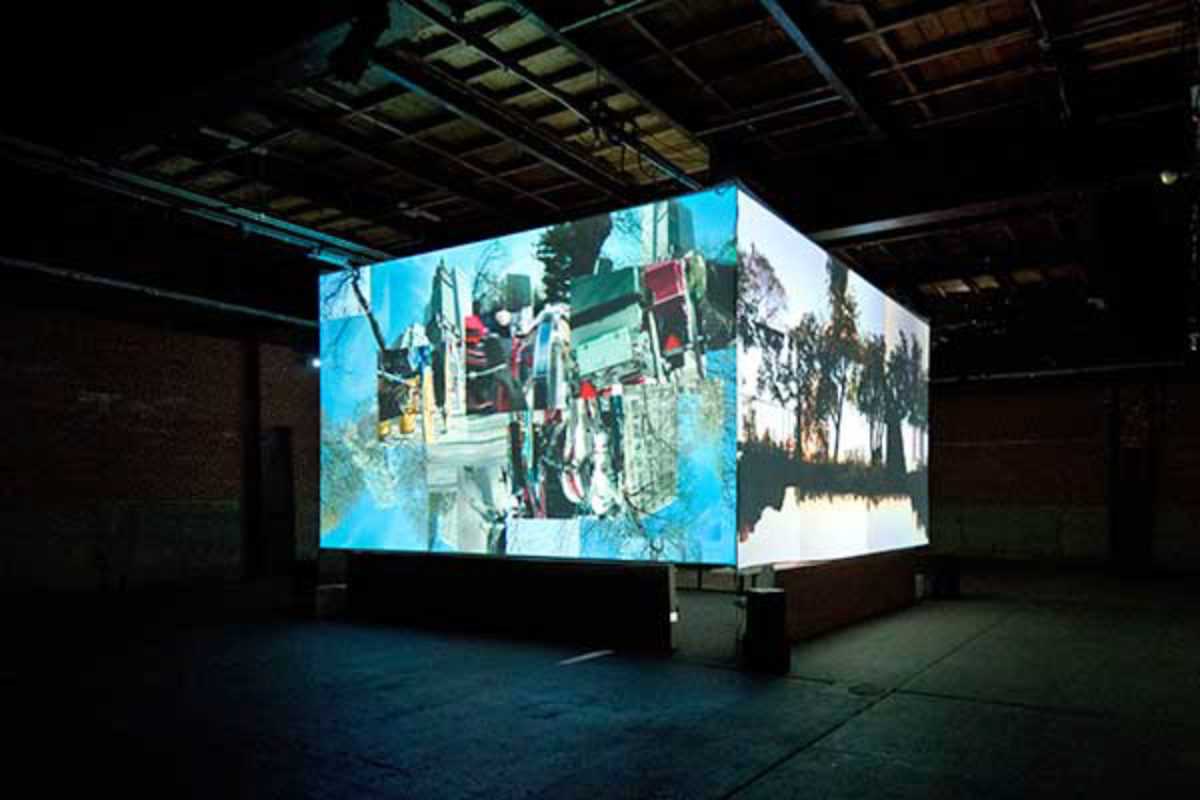 Published on April 1, 2015
In Will Self's novel Great Apes, Simon Dykes is a celebrated artist who has the misfortune to wake in a parallel world with recognizable characters and places, but a society inhabited not by humans but by hominoids. Convinced he remains a man and not an ape, he is quickly sectioned and receives treatment from the brilliant Dr. Zack Busner, who helps Dykes come to terms with his own "chimpunity." No mean feat, as our protagonist is shocked by the aggressive reinforcement of social hierarchy, bestial sexual practices and scatological habits of his peers. Self explores the margins between what we deem acceptable human conduct and our biological needs: how we separate ourselves from animals, and how easily we regress to our base instincts.
Our daily decisions are a compromise between our human head and the ape within. We see arthouse cinema, we take a nap. We enjoy fine dining, we wolf down food. At a concert, out comes the iPhone (the inner simian likes likes). And in the evening, we see our favorite DJ and get so drunk/high that we can barely distinguish his selections, much less remember the set the following day. This is the existence of the modern-day homo sapien and the most successful experiences speak to id, ego and super-ego in equal measure.
We all have our own associations with what it means to be a monkey. Montgomery Knott credits American writer Eugene Walter as the inspiration behind the nomenclature of his multimedia dining experience, Monkey Town. Walter, a genuine bon vivant whose peers included Federico Fellini, T. S. Eliot, Judy Garland and Gore Vidal, dedicated verse to our primate cousins and whose grave is engraved with the legend: "When all else fails, throw a party." What a fine balance he struck between creative output and hedonistic joy, from launching the Paris Review and acting in 8½ to his destitute death. Knott, a distinguished video artist, cites a worthy patron.
Originally serving diners in Williamsburg a decade ago, Knott's immersive food and mixed media art project has its roots in another New York endeavor. Gordon Matta-Clark's FOOD was an artist-run restaurant in SoHo which opened in 1971 and served fresh, locally sourced ingredients and promoted exotic recipes for three years before its closure. (It was briefly resurrected by the Frieze New York art fair in 2013.) FOOD's approach may sound passé now, but in the early '70s, opening an establishment with such values was as progressive as the interventionist artwork that Matta-Clark is known for.
Knott has taken the concept of an artist-curated dining room and refined the process. No longer is the restaurant a motive to convene; the art is given spectacular prominence. The meal complements and enhances the experience of Knott's featured pieces. A two-hour program of video is projected onto the sides of four giant screens that surround the diners, while the center of the cube is reserved for performance artists, who occupy weekly residencies. In keeping with Matta-Clark's ideas, the food is based on what is available seasonally in the region and organically produced where possible. Resident chef Sergi de Meià could be considered an artist himself – something evident in his recent cookbook, which recovers lost recipes from four centuries of Catalan cuisine. Knott himself introduces the courses and works of art, and as anyone who has eaten in the US will attest, the service is phenomenal. Unlike in the States, the tip is (thankfully) included.
Knott has been living and breathing this project since 2003, and this edition is the fifth installment: three stints in New York, one in Denver and now the first foray out of his continent. He has a lengthy relationship with Barcelona: in fact he used to lead tours of Gaudí's architecture, "when there were no lines to get into the Sagrada Família." He credits the city as an influence on his growth as an artist and was urged to bring the project here by friends impressed with Monkey Town 4's tremendous success in Denver.
Each edition has a body of work customized to its environment. Its debut in Europe is no different. For Monkey Town 5, Knott has recruited João Laia, a writer and curator who works for Frieze and the Lisbon newspaper Público, among other pursuits. The two have combined to assemble a video program that plays each evening and features multi-channel works by 14 artists and filmmakers from both sides of the Atlantic. The performance schedule is as rich as it is varied, and will shape your experience of the night more than any other element, so should be considered when booking. Dance, electronic music, audiovisual concerts and even tightrope artistry are represented during the 90 days, many with a degree of interaction with the 32 diners in attendance.
So how are you supposed to act? In such intimate circumstances, a large group shouting across the room would be out of place, but is a possibility if guests are not given proper guidance. We are advised that an evening in Monkey Town is like a trip to the cinema or opera, rather than a regular restaurant. In other words, talking is okay, as long as you don't disturb your neighbors' enjoyment of the presentation. Lateness is another no-no. Monkey Town is a total sensory experience, with all elements of the installation planned meticulously. It is unlikely to be repeated in the near future, and for that reason could very well be the art event of the season.
April 16, 2015 – June 7, 2015
Monkey Town
C/ Cristóbal de Moura, 126
Barcelona