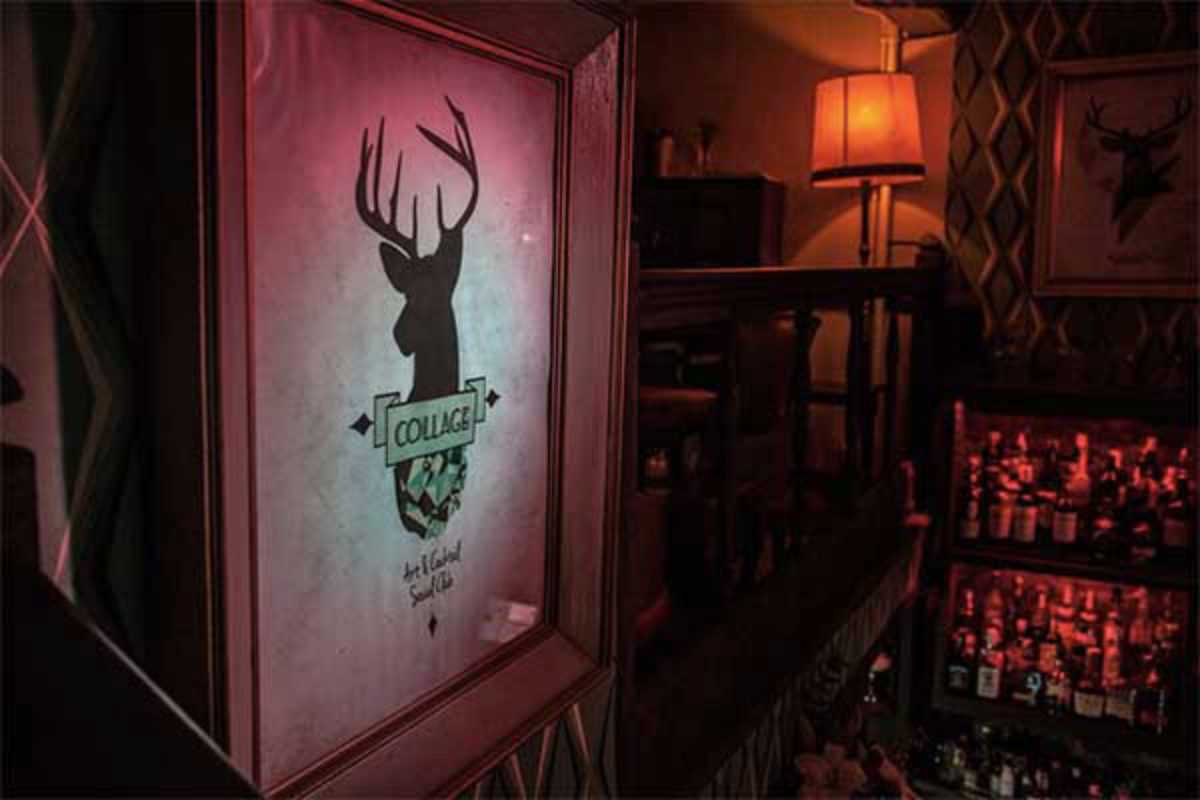 Published on July 1, 2012
"Bar" isn't a big enough word for a place like Collage. This small but sophisticated locale is much more than a drinkerie: part social club and part gallery, it's a place to appreciate cocktails, art and the finer things in life – an homage to the bon viveur of yesteryear.
Created by Karina, Lorenzo and Fernando of cocktail catering service Mixology, Collage is a celebration of cocktail making as both social ritual and art form. Masters of their trade, the team's passion for mixology can be tasted in each of their colorful creations; their drinks are both scientific experiments and work of arts, painstakingly concocted with top quality ingredients and impeccably presented. Mixologists Lorenzo and Fernando love to invent new cocktails, coming up with new creations to add to the mix of over thirty classics and originals, each of which is well priced at 7 euros.
Choose from classics such as a Dry Martini, Gin Fizz or Cosmopolitan, aperitifs like a Spritz or Bloody Mary, and creative house cocktails such as the Strawberry-Basil Sour or Josephine Collins (like a Tom Collins with strawberry and passion fruit). Or warm up with flavored tequila shots like Sauza Gold with lemonsalt and a slice of cucumber. Of course, the bon vivant lifestyle isn't complete without a bite to eat: though cocktails remain their forte, the bar also offers gourmet food at low prices, and each cocktail bought before 11pm comes with a free tapa. "Finger food" on offer include Goat Cheese Truffles with Sundried Tomato and Pine Nuts or Seafood-Mango Ceviche, each for just €3.50.
Like its cocktail menu, Collage is a blend of old-school classic and fashionable originality. Its rich colors and exposed stone give the bar the intimate feel of a '50s gentlemen's club, while Karina's handpicked decorations add a quirky twist to its vintage glamour. As its name suggestions, the bar is a gorgeous mix-and-match of detail and design, with illustrations and postcards decorating the walls and old knickknacks scattered between retro furniture found at Les Encants market.
Upstairs the mezzanine lounge area displays exhibits by featured artists, selected by curator Elisa. More than simply decorative, these intertwine the processes of artistic and cocktail creation: each artist is asked to draw five cocktails, which are then brought to life by the Mixology alchemists. Refined but not pretentious, those with an appreciation for culture and quality cocktails will love this unique social club. Check out their Facebook page for news of workshops, courses, tastings and other events.
Collage
C/ Consellers, 4
Barcelona